Eufy By Anker RoboVac L70 Hybrid Robot Vacuum Cleaner
Packs a Punch
2200Pa of hard-hitting suction power for a thorough clean every time
BoostIQ
Smooth and smart transitions on multi-surfaces. Automatically increases suction power when extra vacuuming strength is needed.
Intelligent Mopping
Automated water control allows for effective cleaning without spillage.
Adjustable Mopping Power
Use the EufyHome app to adjust power settings for mopping on different surfaces.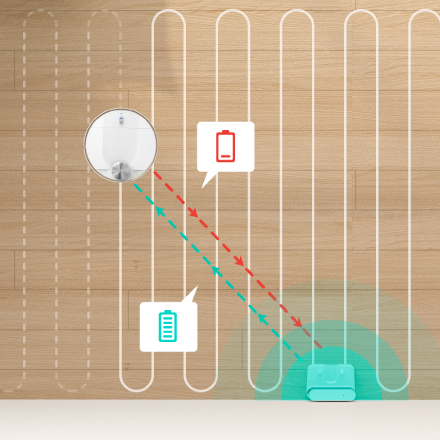 PinPoint Return
Precise targeting allows RoboVac to return to the exact point at which it paused cleaning.
Set Virtual Boundaries
Customize each cleaning task so that RoboVac only mops and cleans where needed.
You're in the Driver's Seat
Control by voice or using your phone. Give detailed commands and receive feedback on how your RoboVac is performing.
Easy Maintenance
Convenient 3-in-1 Washable Filter makes for easier cleaning and less maintenance.
Model:T2190
eufy RoboVac L70 Hybrid
A New Generation of Smart, Precise Cleaning
Taking navigation and mapping capabilities to a whole new level resulting in increased efficiency and running time.
Customized Each Task for Complete Cleaning
No-Go-Zone: Set virtual boundaries to exclude the areas in which you don't want RoboVac to enter.
Real-time Control: know exactly where RoboVac is and what task it is performing at any time.
Zone Cleaning: When a certain area requires attention, customize RoboVac to clean the specific room or spot needed.
PinPoint Return: Intelligently remembers the precise point at which cleaning was paused, as a result of low battery, and returns when fully charged.
Boost IQ and Hands-Free Control
RoboVac possesses BoostIQ Technology which automatically increases suction power when extra vacuuming strength is needed. With multiple cleaning modes and auto-clean scheduling RoboVac ensures an effortless, thorough clean while you relax.
Versatile Cleaning Made Easy
2-in-1 mopping and sweeping for a sparkling clean without the effort. 3-in-1 filter for less maintenance and more relaxing.
Packs-a-Punch
With 2200Pa of hard-hitting suction power, RoboVac won't miss a speck as it glides from room to room.
Cleans While You Relax
Refined from the inside out to provide quiet vacuuming with zero hassle, RoboVac cleans with the equivalent volume of a microwave, and is only 3.96" tall to clean under low-hanging furniture with ease.
Year-Round Support
At eufy, we believe in our products. That's why we back them all with 12-month product support and provide friendly, easy-to-reach assistance.
For Optimal Use:
- Ideal for hardwood, tile, laminate floors and medium-pile carpets.
- Move cables out of the way to avoid tangling.